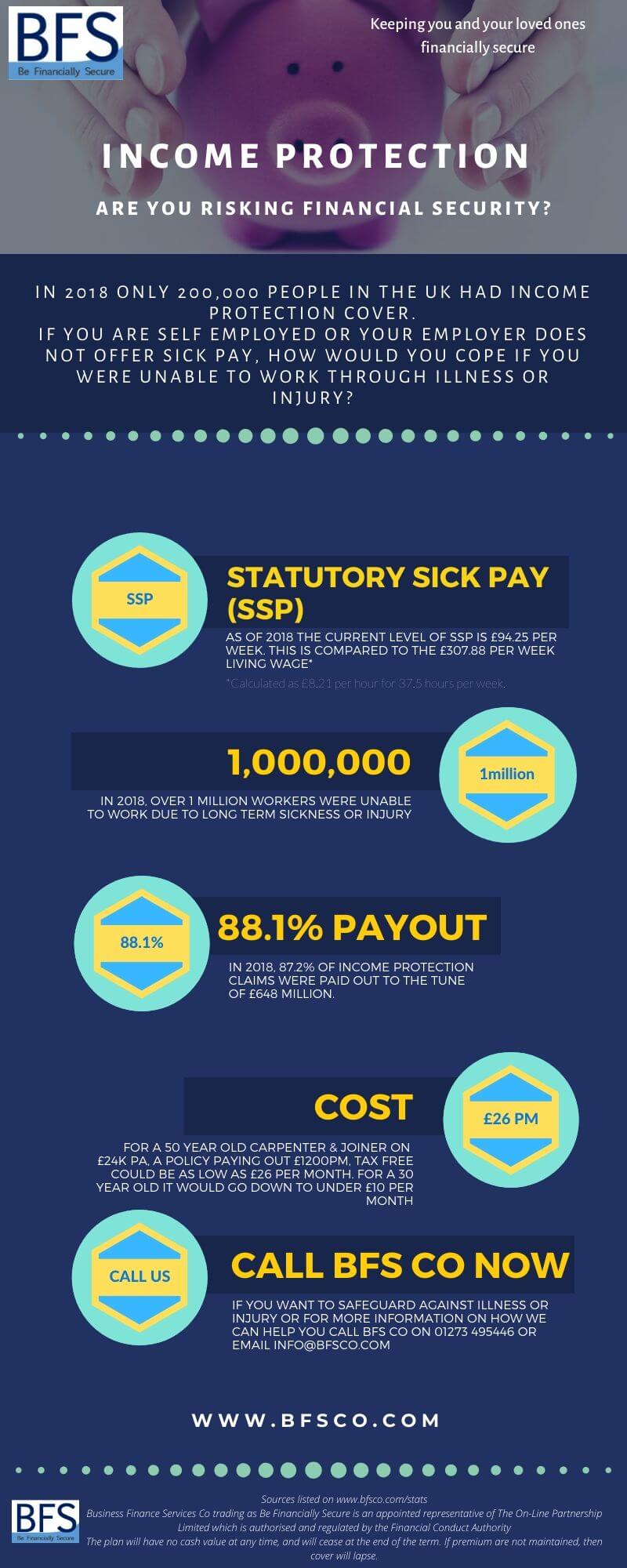 Income protection.
Are you risking your financial security? In 2018 only 200,000 people in the UK had income protection cover. Whether self-employed or your employer does not offer sick pay, how would you cope financially if you were unable to work as a result of illness or injury? Likewise, how would your family manage without your income?
Statutory Sick Pay (SSP)
As of 2018 the current level of statutory sick pay is £94.25 per week. Comparatively, the living wage is currently set as £307.88 per week*
*We've calculated the living wage as £8.21 per hour for 37.5 hours per week. 
1,000,000
Each year, 1 million workers are unable to work due to sickness or injury.
88.1% pay-out
In 2018, 88.1% of income protection claims paid out to the tune of £648 million.
Cost of income protection
For a 50-year-old carpenter & joiner on £24k pa, a policy paying out £1200pm, tax free could be as low as £26 per month. For a 30-year-old this price would go down to under £10 per month. As a result, peace of mind has a small price to pay.
Be Financially Secure by calling us now!
If you want to safeguard against illness or injury or for more information on how we can help you be financially secure, call BFS Co on 01273 495446 or email info@bfsco.com.
Images are free to use courtesy of www.pixabay.com
Business Finance Services Co trading as Be Financially Secure is an appointed representative of The On-Line Partnership Limited which is authorised and regulated by the Financial Conduct Authority.
The plan will have no cash value at any time and will cease at the end of the term. If you do not maintain premiums, then cover will lapse.
BFS Co, here to keep you and your loved ones financially secure.